WHAT A CRAZY WEEK! CHECK OUT WHAT THEY ARE WRITING ABOUT  LAST WEEK!
All the action and more information on: http://xgames.espn.go.com/article/9085802/week-review
TIGNES, France — High in the Alps, the weather can be wild and unpredictable. And at the X Games, so can the competition.
A blizzard swept through Tignes, France, on the first day of X Games Tignes, forcing the Women's Ski Slopestyle competition to be postponed a day. Wednesday night, the wind whipped and circled the pipe ominously, but the Women's Snowboard SuperPipe competition went on, crowning Kelly Clark queen once again. Adding to the rough start, several skiers had to wait nervously for the airlines to deliver gear that didn't arrive when the competitors did.
Then, as if the blizzard never happened, the skies cleared and the party really started in Tignes. And the competition followed suit. Iouri Podladtchikov landed his YOLO Flip for the first time, Kaya Turski retained her Slope dominance for the fourth time in a row in Tignes, Sebastien Toutant overcame his friend Mark McMorris to return to the top of the Men's Snowboard Slopestyle podium, and the France versus USA showdown in Men's Ski Pipe didn't disappoint (USA won out this time). In a fitting finale to the week, French native Marie Martinod-Routine returned to competition after a six-year hiatus to give a toast to Sarah Burke and her hometown crowd.
Swiss rider Iouri "I-Pod" Podladtchikov made history Thursday, landing the first Cab double cork 1440 in competition during the Men's Snowboard SuperPipe finals. He's calling it the YOLO Flip, after the unstoppably viral teen meme: You Only Live Once.
After landing the trick — essentially a switch double flip with four rotations — in his third and final run, Podladtchikov nearly took the YOLO thing literally, crashing hard on his next hit, a frontside double cork 1080 mute grab.
After his run, he tossed his gloves, helmet, goggles and snowboard into the crowd in celebration.
"It felt rock and roll, baby," he exclaimed, breathless after his momentous run.He says he has attempted the trick only three times in total, including once during practice at X Games Aspen 2013 in January. He'd been hyping the trick up on social media since then, but as far as Podladtchikov is concerned, a trick doesn't really count until it has been landed in competition in front of a crowd. "This is the first time I've done it," he said.
The YOLO Flip is a huge step in progression for Podladtchikov, who also brought the first double McTwist 1260s to superpipe competition a year ago. He has said he felt undue pressure to try the double McTwist at X Games Aspen 2012, with that event being promoted as an I-Pod versus Shaun White showdown; this year, with White out of the mix and the pressure off, he came determined to land his newest trick, foreshadowing what could shape up to be one of the biggest rivalries in snowboarding heading into an Olympic year with the 2014 Winter Games in Sochi, Russia, on the horizon.
NORENDAL WINS WOMEN'S SNOWBOARD SLOPE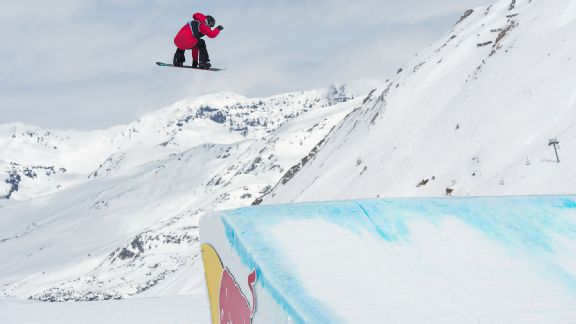 Norwegian rider Silje Norendal disrupted X Games Aspen 2013 gold medalist Jamie Anderson's attempt at a Tignes Women's Snowboard Slopestyle three-peat.
"I couldn't be happier," Norendal said after the event. "[This] is such a good event for girls to progress and show what we really can do."
It was a big day for progression in women's slopestyle, with Aimee Fuller landing a double backflip and a Cab underflip tail grab and Sina Candrian attempting 1080s.
"We saw a 10 today and so much progression it's just sick," Norendal said. "It's the whole atmosphere, everybody coming out here watching, really nice weather and a great course … it's just a good combination of everything."
If Anderson had won, she would have tied Shaun White's record of five X Games slopestyle gold medals, but she said she was just happy to see everybody throwing down with new tricks.